Growing roses out of concrete
The Made in Goma Project by DRC ApeParel (www.DRCApeParel.com) aims to foster the passion for creative entrepreneurship in apparel production by educating youth at the Yole!Africa (www.YoleAfrica.org) community center on the skills needed to start-up and run a sustainable screen printing production business. An emphasis will be focused on collaborating and building strategic partnerships in the local community as well as abroad with other visual artists, seamstresses, accessory and apparel designers, to produce a lifestyle business model around products that will be "Made in Goma."Goma, located in the east of the Democratic Republic of the Congo, is currently a city affected by one the deadliest conflicts since World War II, with over 6 million dead and millions more people forcefully displaced. In this context, civil services (including schools) are often shut down, leaving young people without education, and with few choices. Yole!Africa, a cultural center founded by acclaimed Congolese filmmaker and activist Petna Ndaliko and located in Goma, DRCongo provides youth the space, skills, and alternative education necessary to thrive despite the conflict in the region.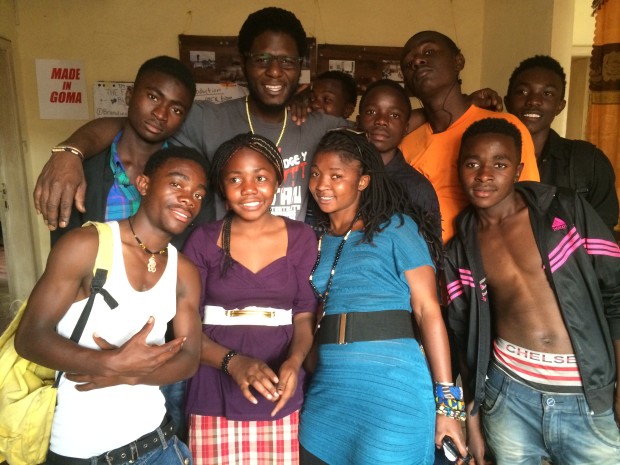 We are not doing anything new, just doing what we feel is right. The youth, whom we like to call the "Divine Righteous Children" or "DRChildren" are the motivation behind everything we do at DRC ApeParel. The DRChildren are the future and the future is happening now. Together, you, us, the DRChildren and our strategic partners can cultivate even more beautiful roses coming out of a worn-torn concrete of east part of DRCongo. The project, a multi-stop international tour, will teach local Goma youth the art of screen printing, create an apparel production collaboration with local Goma artisans and result in a full-length documentary capturing the project's year-long development, where the youth-made and local-artisan collaboration products will be marketed and sold. The tour will also serve the purpose of being the marketing and branding engine to spread the word far and wide of the products being "Made in Goma", to create a demand and ensure the sustainability of the project.
With your extra-extra support, after reaching our initial goal of equipping a professional compact screen print studio at Yole!Africa, we will unlock our stretch goals, which will allow us to implement the full scale business model that which will put project on a great position to be able to sustain itself in Goma for years to come. The opportunities are wide open for you to be involved in making this happen with us. Your contribution to this project both financially and with your heart, believing in our mission and purpose, will give us the tools we need to make this a reality. Jump on board and be a part of the dopeness that's being "Made in Goma". Global Citizens Unite!
A Creative Director with a creative vision
For two decades filmmaker, creative director and first generation Congolese-American, Eric Ndelo has made it his life's mission to spread international awareness of the Beauty and the Crisis in the Congo. After seeing apparel design as a more practical and efficient outlet for bringing his native culture to the forefront, Ndelo put filmmaking aside and started DRC ApeParel, Ltd. (www.DRCApeParel.com), an African streetwear and lifestyle brand, born in the U.S.A. and inspired by the love, art, and heritage of the Congo and the African Diaspora. Now, Ndelo is returning to his filmmaking roots as DRC ApeParel travels throughout the US and abroad, capturing the global streetwear lifestyle and his company's year-long effort to establish itself in the Congo as a resource partner for entrepreneurial growth amongst the youth and artisans. With Yole!Africa celebrating its 15 year anniversary this year, the organization has set the foundation and paved a way for the youth to alternatively and creatively reshape their future. This ground work has tilled the soil in Goma, making it easier for us at DRC ApeParel to plant our roots and be a part of Yole's growing movement of empowering the youth, by contributing our passion for entrepreneurship, apparel production and international cross-cultural exchange. This July, Ndelo and associates will travel to Goma, DRCongo for YOLE!AFRICA's 10th Annual Salaam Kivu International Film Festival (SKIFF) (www.salaamkivu.org) where he, for the second time, will lead a screen printing workshop, along with some of the outstanding youth that excelled in the previous year's workshop. We will teach additional skills this year by enhancing the curriculum to include: artwork design, color separation, film output, screen making, entrepreneurship, collaboration, marketing and branding.
Made In Goma Project Blueprint -- An Inside Look
Last year's workshop, which culminated in a successful fashion show co-produced by the youth debuting their t-shirt concepts and showcasing their styling skills using clothing by DRC ApeParel. It also printed the original MADE IN GOMA design on over 100 pieces ranging for pants to hoodies to t-shirts. The youth, as well as other members of the community came to the workshop with whatever piece of clothing they could find in order to get designs printed on them. The word spread and the workshop really had a very positive impact with the youth at YOLE!AFRICA and the greater community. The youth and still stay in connect and they are ready to continue where we left off. With your help, the Made in Goma campaign will give DRC ApeParel the wonderful opportunity to reconnect with the youth at YOLE!AFRICA and take what we previously started to the next level. What's this next level you're taking about, you may ask? Well the answer is quite simple. By equipping a professional compact screen printing production studio at the Yole!Africa Community Center. Last year we accomplished great things with just one small screen printing press, a few screens and a limited supply of ink. All of which were left in Goma for the youth to continue to bring their creative visions to life. Over time the inks ran out and new screens were needed, which brought everything to a halt. So just imagine what they could continue to accomplish with an improved production capacity, including equipment such as; a production level screen printing press, a screen exposure machine, a flash dryer, a solar generator, large supplies of ink, t-shirts, a pressure washer and much more. With this professional setup, along with adequate amount of supplies, the youth can produce screen printed apparel at the Yole!Africa and sell locally and on the international market. With a continued partnership with DRC ApeParel, the studio will be able implement a business model that will be able to sustain itself, thus ensuring the Made in Goma Project will be able to reach maximum impact for years to come. In addition to stimulating the passion and skills entrepreneurship with the youth, DRC will lead by example in collaborating with Kivu Nuru (www.kivunuru.com), an art house that seeks to provide space for aspiring young talents in eastern Congo to create strategic cut & sew apparel and accessory production partnerships with local Goma artisans. The aim of the workshop and collaboration is to create a sustainable model for economic growth through a continued partnership with DRC ApeParel. The next stop after SKIFF, will be a flight from Goma to Kinshasa, the capital of DRCongo to participate in Kinshasa Fashion Week, where we will feature a Made in Goma Collection produced by the youth, a DRC ApeParel Collection and products created by the local Goma artisans. The tour will continue in the United States, with a vending opportunities in Brooklyn in August, Atlanta in early September, branded events in DC and Philadelphia in mid to late September, and closing out during Congo Week (October) in Charlotte, NC. DRC ApeParel will be showcasing and raising awareness of the Made in Goma Project, engaging the cross-cultural exchange and retailing the youth-made and local-artisan products at each stop on the tour.
Make an Impact Through Giving
Proceeds will be reinvested back into Goma for new products geared for the upcoming season. Thus continuing the business relationships established; not just moving on and leaving them to fend for themselves, but to grow with them and expand the product assortments and customer reach around the globe. Studio Construction: Money to equip a professional compact screen print studio at Yole!Africa Community Center, purchase production materials and shipping costs to Goma Working Capital for Collaboration: Money to establish cut & sew apparel and accessory production partnerships with the artisans of Kivu Nuru and shipping of products to the United States Tour Expenses: Money for production fees, venue bookings, vending fees, travel and promotion/marketing of tour dates/events Film Production: Money to film, edit, package and market the Made in Goma Project documentary DVD
Preparing for the challenges
Many of you may be familiar with the challenges that come with doing business overseas: increasing international shipping costs, unpredictable political stability, challenging telecommunications, and poor infrastructure, just to name a few. We are determined to make the screen printing studio and strategic partnerships succeed, be profitable and create a sustainable economic model, while continuing to provide resources to and collaborate with the youth and the artisans in Goma. We realize that power flows from the people and the more people we have on board the more impactful we can be. We, with your help, will continue in the overall mission of empowering the Congolese through apparel entrepreneurship utilizing the creative and intellectual talents they already posses. Congo Strong! Global Citizens Unite!